2022
Special Event
Tasmanian
First Nations
2022 Subscription Season
BY NUNAMI SCULTHORPE-GREEN
5 May - 15 Dec 2022 (28 performances)
takara nipaluna – 'Walking Hobart' is the first and only Aboriginal tour of nipaluna/Hobart.
This walk of nipaluna and its waterfront follows the route taken in 1832 by a group of 40 members of the Aboriginal resistance, as they progressed to the old Government House to negotiate an end to the Black War. takara nipaluna – Walking Hobart – gives voice to the palawa (Tasmanian Aboriginal) perspective and continued presence within this modern city, exposing the layers of history beneath the asphalt.

Created by: Nunami Sculthorpe-Green
Dramaturge: Sarah Hamilton

Originally Produced by Performing Lines TAS.
For more information on the walking tour and for Frequently Asked Questions, please click here.
For more information on takara nipaluna, visit the Website: blackledtours.com
Walking tour starts at Mathers House, located at 108-110 Bathurst St, Hobart TAS 7000 and finishes near Salamanca
Image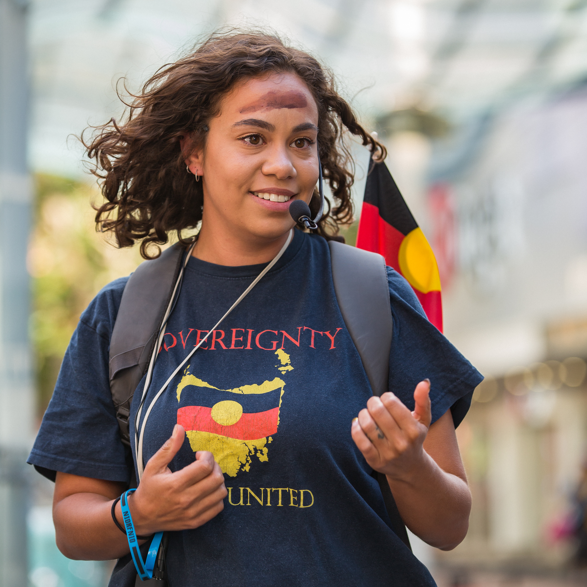 Tickets
All tickets $50.
*all bookings will incur a non-refundable $5 Transaction Fee
Patrons' Advice
This walking tour involves 90 minutes of brisk walking; along the way there are 15 stops, many with seating available, and a toilet break mid-way. It's a 1.4 km course beginning in the city and finishing near Salamanca. Patrons are advised to dress for the weather. In the event of extreme weather, the tour will be offered as a stationary, indoor talk with a visual presentation.
The walk is wheelchair/pram accessible with small sections of very gentle slopes.
The walk is an amplified tour and guests are required to wear in-ear headphones, you are welcome to bring your own ear buds/headphones however they must have a 3.5mm headphone jack. Bluetooth will not work with our system. If you have any questions or concerns, please call, email or visit the Theatre Royal box office for assistance.
First Nation people please note: Aspects of the tour deal with Tasmania's dark past and include references to people who have died.