Image

Musical Theatre Crew Presents
13 - 16 Jan 2021 (6 performances)
Musical Theatre Crew is proud to present the acclaimed Les Miserables at Hobart's majestic Theatre Royal in celebration of our 10 years as Hobart's leading musical theatre training school and theatre production company for young people.
The much-loved Les Miserables will be performed by Musical Theatre Crew's Senior Performance Ensemble, a troupe of talented and dedicated young performers aged 15-18 years who are passionate about musical theatre. We are thrilled to have MTCrew Alumni and glorious tenor David Thomson, guest starring in the pivotal role of Jean Valjean. David is in the final stages of completing his Bachelor of Music (Classical Voice) at Conservatorium of Music, UTAS, having been a student member of MTCrew for many years, and now working as a Senior Tutor and Voice Teacher. We also welcome our delightful Junior Crew members to perform the children roles.
We have assembled an outstanding, award-winning creative team with direction by Allan Jeffrey and Leiz Moore, choreography by Mandy Lowrie and Jaime Mollineaux-Herbert, vocal direction by Samantha Hammersley, with musical direction by Andrew Castles conducting our 14-piece orchestra of accomplished local musicians including MTCrew's principal accompanist Iestyn Parry on keys. In addition to the vibrant and engaging performances of the memorable songs including Master of the House, I Dreamed a Dream and On My Own, the show features striking staging and glorious costumes.
We are so excited to be returning to the stage after a challenging year for the performing arts and can't wait to share this wonderful production with Hobart audiences.
Join us on the barricade to celebrate the power of people overcoming adversity and support emerging Tasmanian talent as we welcome you back to the theatre in January 2021 to 'hear the people sing' for 'one day more' with Les Miserables!

PERFORMANCE TEAMS
(Note: Most principal roles are double-cast, with performance dates listed below for both casts)
13 January, 2pm – Team Égalité
13 January, 7:30pm – Team Liberté
14 January, 7:30pm – Team Égalité
15 January, 7:30pm – Team Liberté
16 January, 2pm – Team Liberté
16 January, 7:30pm – Team Égalité

Cast Team: Égalité
Jean Valjean: David Thomson
Javert: Ailbe Bourke
Fantine: Madeleine Jeffrey-Moore
Marius: Max Baldock
Cosette: Georgia Heyward
Eponine: Carla DiDomenico
Monsieur Thenardier: Tom Hawkey
Madame Thenardier: Catie Williams
Gavroche: Finn Connolly
Young Cosette: Eleanor Johns
Young Eponine: Zoe Argyropoulos
Street Urchin: Catie Connolly
Cast Team: Liberté
Jean Valjean: David Thomson
Javert: Josh Barnes
Fantine: Chelsea Jones
Marius: Max Baldock
Cosette: Cecilia Hutchinson
Eponine: Shannae Shead
Monsieur Thenardier: Oscar Reisz
Madame Thenardier: Georgia McCulloch
Gavroche: Quentin Boyd
Young Cosette: Sapphire Mallam
Young Eponine: Bella Crosbie-Seabourne
Street Urchin: Georgia Beumer
CAST (all shows):
Oscar Aliendi, Ryan Boscoe, Lachlan Cooper, Heather Curry, Sarah Field-Westlake, Amanda Gardner, Jorja Geeves, Flynn Gorman, Amelia Howell, Phoebe Jones, Ashlyn Mackenzie, Maya Manaena, Justin Nyhuis, Chloe Sloan, Colin Smith, Eliza Smith, Bryce Tollard-Williams
Image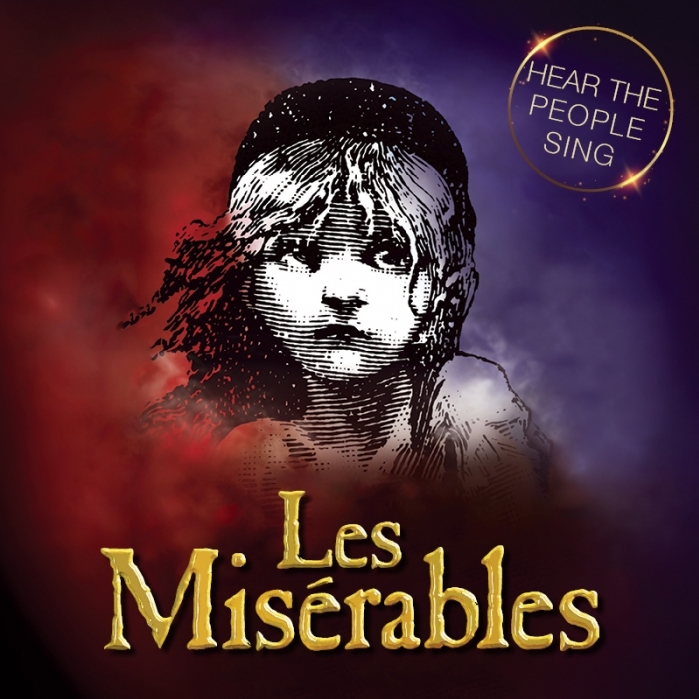 Tickets
Stalls/Dress Circle
Premium $55 / A Reserve $55
B Reserve $45 / C Reserve $39
Gallery
Premium $55 / A Reserve $55
B Reserve $45 / C Reserve $39
Concessions (inc. Gallery)
A Reserve $45
 
*all bookings made via the website will incur a $2 Internet Transaction Fee
Duration
2 hours 40 minutes (including interval)
Patrons' Advice
Suitible for all ages
Contains violence, parental guidance advised
Contains Smoke and haze effects