Barbershop Harmony Festival 2022
Music
BARBERSHOP FESTIVAL - A CAPPELLA SPECTACULAR
A CAPPELLA SPECTACULAR SHOWCASE OF CHAMPIONS - 7:30pm
A Cappella Spectacular brings together The Velvetones, award-winning women's female jazz quartet, along with the best of the best of Australia's quartets and choruses from the 2022 Barbershop Festival held in Hobart during the week.
The Velvetones launched on the scene in 2018 and have become one of the country's leading ensembles. The sassy, sexy Velvetones, are inspired by the likes of Manhattan Transfer, the Andrews Sisters, and the Chordettes. They will hypnotise and delight you, performing everything from heart-stirring jazz ballads to cheeky early Broadway hits.
Included in the repertoire of these velvet-voiced virtuosos are songs like Mr Sandman, a classic 1950's song by Pat Ballard, Ain't Misbehaving, a laid-back jazz standard by Fats Waller, and Diamonds are a Girl's Best friend, a sparkling number made famous By Marilyn Monroe.
The best of the best of Australia's barbershop ensembles will also perform. They will entrance you with their lyrical story telling of both ballads and up tunes. You will experience exhilarating energy and magical moments. And you will marvel at vibrant harmonies, spine-tingling chords and overtones as you become totally immersed in the music.
Join us for A Cappella Spectacular at the Federation Concert Hall for a sparkling evening of entertainment.
Barbershop Harmony Festival 2022
Image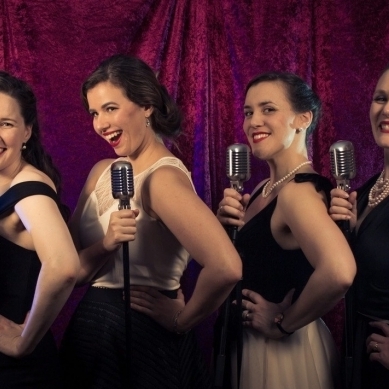 Tickets
Saturday 5th November

A Capella Spectacular - $58.00

Tickets for this event will go off sale at 4pm on Saturday 5th November, and will then be available to buy at Federation Concert Hall prior to the concert.
Duration
2 hours 30 minutes (Including 20 minute interval)