Image

THE THEATRE ROYAL PRESENTS
11 - 12 Aug 2021 (2 performances)
Theatre Royal Studio Theatre
Combining old school whimsy with state of the art technology, ZOOOM is an enchanting story of a child alone in her bedroom, unable to sleep and curious to understand.
She begins a transformational journey with light and discovers that the dark is a magical place.

Adventures happen and with the assistance of the audience the girl discovers a community of people who can help her solve problems. Part music video, part dream, ZOOOM is a show about all sorts of perspective.

Inspired by iconic children's' book "Harold and The Purple Crayon," ZOOOM channels the same philosophy; a child who makes sense of their world through art. The show is driven by the power of 'child logic', combined with the magic of science.

Using original music, lasers and projections, the performance takes the audience on an immersive journey. We unpack the science of animation from pixel to line to animation, as miniature worlds are blown up to be larger than life.

ZOOOM begins at home or in the classroom, as we invite our audience to bring a piece of dark to the show. They arrive and their dark is exchanged for their own personal light – a little spark that will keep them safe and help guide them through the interactive sessions of the show.
Image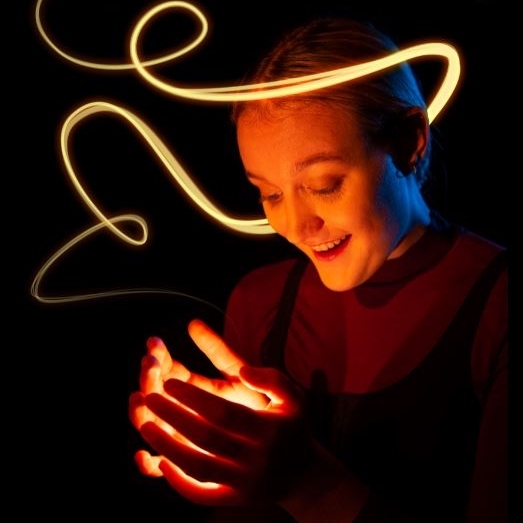 "The ensuing entertainment is a voyage of surprise and wonderment…applause all round"
The Barefoot Review
"Entrancing and always enchanting, appealing not only to kids but to grown-ups as well"
The Advertiser
"Accomplished and visionary achievement"
Stage Whispers
Tickets
Premium / A Reserve $35
Balcony A Reserve $25
Family (1 adult + 3 children or 2 adults + 2 children)
$120

*all bookings made via the website will incur a $2 Internet Transaction Fee
Theatre Royal Subscribers
When booking your tickets via our website please be sure to log in first before you select your shows to obtain your specific discounts from your 2019/2020 subscriptions into the 2021 Season shows.
Patrons' Advice
Suitable for all ages (3 - 10 years)