DIRECTIONS THEATRE COMPANY PRESENTS
Shakespeare in the Gardens 2020
31 Jan - 28 Feb 2020 (17 performances)
Directed by Ellen Roe "As You Like It" is a play about love at first sight, and we like it.
Rosalind is banished from her uncle's court, disguises herself as a man and hides out in the Forest of Arden. There with her cousin Celia and Touchstone the court jester, love runs riot but all the mismatches, cross dressing and fighting all turns out ok in the end – just as we like it!
This show is suitable for all who love the poetry and prose of Shakespeare and have ever fallen in love.
Be enchanted by the Botanical Gardens at night, pack a picnic as you like it.



 
Image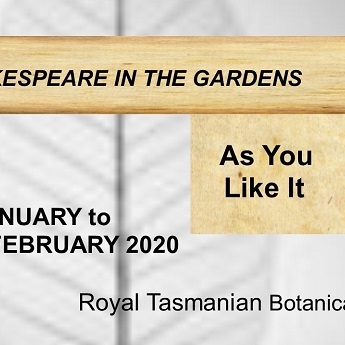 Tickets
Adults $30
Concessions $20
Children under 8+ $20
Family Tickets
(2 adults, 2 children or 1 adult, 3 children)
$80
Groups 10+
$25 per ticket
Students $20
 
*all bookings made via the website will incur a $2 Internet Transaction Fee
Duration
2 hours (including interval)
Patrons' Advice
Patrons are seated on the ground – Bring a blanket or a chair and a picnic- Alcohol permitted
Directions Theatre recommend patrons bring warm clothing, no matter the weather.